Folks of a certain age will remember the Death Valley Days TV show of the 1950s. But before Ronald Reagan, Robert Taylor, and Dale Robertson hosted the long-running series, Death Valley Days was a popular radio program.
It debuted in September of 1930 and featured a singer called The Lonesome Cowboy, who sang cowboy songs in between the multiple stories which made up the show. His name was John White, and though he knew everything about western music, he'd started life in the East.
He was born in Washington D.C. in 1902 and went to the University of Maryland, where his baritone voice made him a valuable member of the college glee club. After graduation in 1924 he took the train out to Wickenburg, Arizona where his brother Bob was working on a couple of local dude ranches (Bob and another brother named Luke later opened the Monte Vista dude ranch).
A Musical Dude Rancher
John played the ukulele and brought his instrument on the trip West. Soon after his arrival Bob introduced him to a neighbor and fellow rancher named Romaine Lowdermilk. He owned the Kay El Bar dude ranch, but he did more than wrangle dudes. He was a talented singer/songwriter who sometimes performed on Phoenix radio stations. He was also a real cowboy who dazzled his dudes with jaw-dropping rope tricks.
John started visiting Lowdermilk regularly and always brought along his ukulele. Here's how he described these visits: "For a couple of weeks, we sat around trading ballads, and when I went home I had a pack of authentic cowboy songs which I had committed to memory." During his time in Arizona John also traded in his ukulele for a guitar.
After a two-month stay in Wickenburg, John went back East, worked for the Washington Star newspaper, and enrolled at the Columbia University School of Journalism. But he never forgot the songs he brought home with him.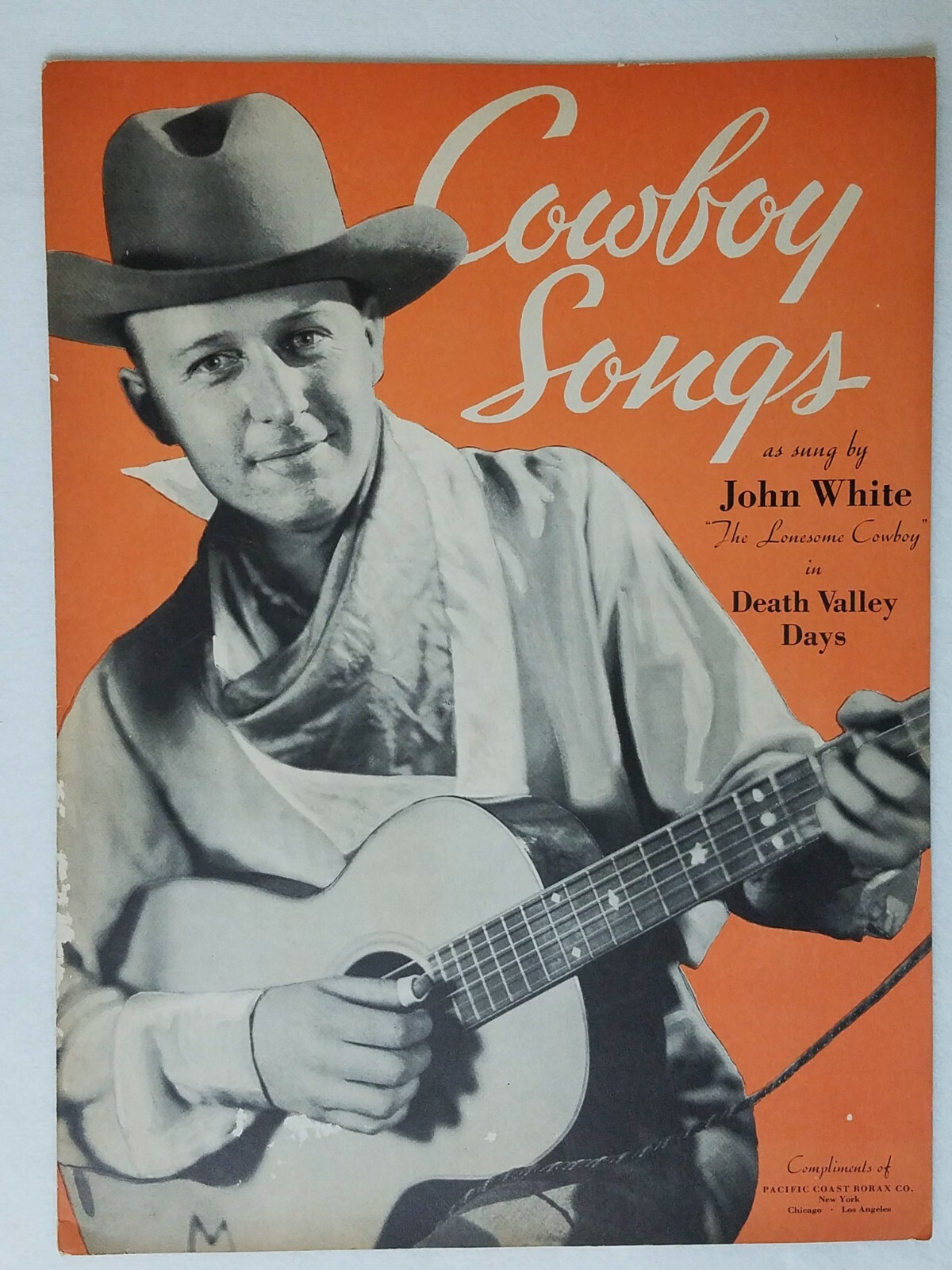 Breaking into Radio
One day John met an old friend who was a professional radio singer, and asked how he could also get on the radio. His friend said it was as easy as walking in the door and doing a quick audition, so John went to New York radio station WEAF. They hired him to sing cowboy songs with his own guitar for fifteen minutes a week. They didn't pay him anything, but someone at station WOR heard him and offered him the same gig for $25. Singing didn't pay the bills, so he took a job at General Drafting in New Jersey and performed weekly on the radio.
He soon created a sideline career for himself as the "Lonesome Cowboy," thanks to indulgent managers at his regular job. Record producers and music executives gave him contracts, and in the fall of 1930, he joined the cast of a Death Valley Days. He also did this job part-time while working at General Drafting, and stayed with "Death Valley Days" until 1936.
Advertisements for his radio shows always said this about him: "White is neither lonesome nor has he ever been a cowboy. His songs of the cattle trail and the once wild and woolly West are authentic, however, for he has roamed the western country and learned from the old timers the songs they used to sing."
A Musical Scholar
John married and had a daughter, who sometimes performed with him at club and charity events. He wrote and recorded songs, wrote several books about Western music, and historical articles about the West which were published by American Heritage and Arizona Highways. He kept in touch with Romaine Lowdermilk and also corresponded with Gale Gardner, Arizona's "Poet Lariat."
He retired from General Drafting in 1965 and passed away in Maplewood, New Jersey in November of 1992, at the age of 90. His family gave his letters, research files, his guitar, and his cowboy hat to the Special Collections division of Utah State University
John White only spent a short time in the West, but those few weeks and a fateful meeting with Romaine Lowdermilk changed his life. When he left, he took with him a passion for Western and cowboy music that never faded. In 1975 he published Git Along, Little Dogies: Songs and Songmakers of the American West. It is a deeply researched history of cowboy and western music which includes his "discography," a detailed list of his recordings compiled by music scholar Harlan Daniel.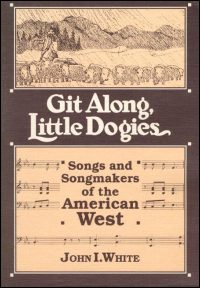 John's heartfelt dedication gave credit to the man who moved his love for music into new directions:
To my wife, Augusta
who felt that this book should be dedicated
to the late Romaine Lowdermilk, from whom I
heard my first cowboy song, in 1924, and to
Harlan Daniel, who forty years later convinced
me that I was a link with the past and for
posterity's sake I should do something about it.

For more information about Romaine Lowdermilk, visit the website of the Kay El Bar dude ranch.