Post by Doris McCraw
writing as Angela Raines
Part of the Arkansas River, Canon City, CO
photo property of the author
Those who know me, or read my posts, know how much I love history. The history of my adopted state is a constant source of fun and great reading. Since I've been researching for an upcoming novel, I thought I'd share some stories of the places my characters travel.
The journey starts in Canon City, pronounced "Canyon". Founded late in 1859 as a 'way station' to the gold fields to the west. By 1860 the town started to grow and after gold was found in California Gulch, it exploded. (For those who wonder, California Gulch is the Buckskin Joe, Leadville area). According to Rosemae Wells Campbell in her book
From Trappers to Tourist
– "that winter Canon City was a wide open, wild town. Every department of pleasure ran at capacity. Saloons became numerous and those who frequented them also found pleasure in ways that did not involve drinking or gambling. General courtesy and basic manners were lax or nonexistent, midnight brawls were commonplace, and gunfights occurred on a regular basis. Men were shot over petty grievances; still others, for less, such as the case of Charles Dodge "shot and killed three men who irked him."
After that winter, the miners, prospectors and hangers on, returned to the mountains and the town was able to focus on growth. Sitting on the Arkansas River, and the mouth of the Royal Gorge, the town had its excitements. The territorial prison was built there in 1874 before Colorado became a state. In 1880 they were building a military academy. There were also a large number of Confederate soldiers who settled in the area. Of course, who can forget the Royal Gorge War between the Santa Fe and Denver & Rio Grande Railroads. That war, to be the first through the Gorge, was to get to the mines in Leadville to convey the ore out of the mountains.
Journeying onward, you travel that route through South Park, on into the mountains. Cripple Creek is just north of Canon City, although it didn't come into existence until the 1890s. You did have Nathrop and Buena Vista, the region of the Lake County War, which I wrote about some time ago. For those who'd like to read about that, here is the link:
Lake County War
There have been many posts about Leadville, that town at 10, 152 feet, and the characters who spent time there. Of course, Horace Tabor, Doc Holiday, Wyatt Early, and possible the James brothers or members of their gang. What many forget is places like St. Elmo, Como, Breckenridge, Gunnison and Virginia City.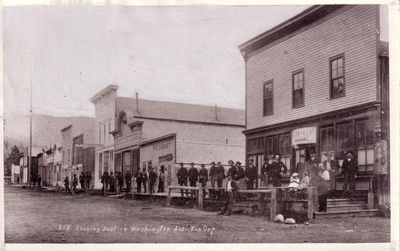 Tin Cup, 1906 from a photo of the Tin Cup Civic Association
Yes, there was a Virginia City in Colorado. Of course since Montana and Nevada, the name didn't last long. So what was it changed to? Tin Cup. If you wanted a wide open town, this was the one for you in the late 1800s. In its early days, there was no true law. It was said they went through seven marshals in a very short period of time.
Here is a piece from the Gunnison Daily News-Democrat from July 12, 1882
In his book "Jeep Trails to Colorado Ghost Towns", Robert L. Brown had this to say:
"By 1879... There were plenty of saloons... Tin cup had several hotels, chief among them were the Pacific and the Eagle. … After the summer of 1879, tin cup was rated as the largest town in Gunnison County, next to Gunnison itself.
There were three physicians in town. One of them was Dr. McGowan, who always wore a full beard which resulted in his death while he was smoking in bed.
In the old days, Tin Cup was entered mainly from St. Elmo, over Tin Cup Pass, and frequently by way of Pitkin, Cottonwood, and Aspen. It was a rough trip from Tin Cup over the divide to St. Elmo.
No railroad ever served Tin Cup. In the summer time you rode the stagecoach and in the winter you skied."
So there you have a short trip though history along the Arkansas River and up to Leadville and Tin Cup. There is so much more history, but time and space limit the story.
Author, Speaker, Historian-specializing in
Colorado and Women's History
Angela Raines - author:
Where Love & History Meet
For a list of Angela Raines Books: Here